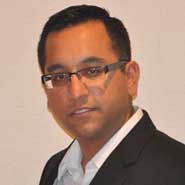 Poojan Kumar
Storage startup PernixData on Monday unveiled software it claims ties the flash storage and SSDs in multiple servers into a cluster to provide a high-performance storage tier for virtualized environments.
The PernixData FVP, a hypervisor for server-side flash, drops into existing customer deployments to add performance without the need for extra hardware other than adding more flash storage or SSDs into already-deployed servers, said Jeff Aaron, vice president of marketing for the San Jose, Calif.-based startup.
"We're solving a very tangible problem in both enterprises and SMBs: As their environments go virtual, their back-end infrastructure is not keeping up," Kumar said.
[Related: The 10 Coolest Flash Storage Products Of 2013 (So Far)]
The traditional answer to the problem has been to add more disk to increase storage performance, Kumar said.
"But for solving performance issues, adding more disk is disruptive and expensive, and may not solve the problem," he said. "Customers can also add more flash into servers, but that doesn't help the overall infrastructure. Our solution is the flash hypervisor, which takes the traditional hypervisor functionality and wraps flash around it."
Poojan Kumar, PernixData co-founder and CEO, said PernixData FVP is a 100-percent software solution that lets customers keep their existing shared storage infrastructure while taking advantage of server flash to increase storage performance.
It is a solution that works, said John Flisher, technical consultant manager at eGroup, a Mt. Pleasant, S.C.-based solution provider and a beta partner of PernixData for several months.
eGroup has been beta-testing PernixData FVP since October, both in its own lab and with between 5 to 10 customers, Flisher said.
"This is a simple solution," he said. "It drops right in. No agents. And it's storage-agnostic."
PernixData FVP comes with all the clustering technology built-in, Flisher said. "It lets customers do HA [high-availability], Vmotion, and VMware's SDRS [Storage Distributed Resource Scheduler] and DRS [Distributed Resource Scheduler]. And accelerated writes. A lot of flash technology speeds up reads, but not the writes."
PernixData FVP is a clustered software that aggregates server flash into a separate tier to provide scale-out storage performance using that flash, Kumar said.
NEXT: Leveraging Existing Hardware While Boosting Storage PerformanceThere are several flash storage vendors, but their biggest limitation is that, because the flash is plugged into a server, it is not available to other servers, PernixData's Kumar said.
"As soon as you plug flash into a local server, you lose the benefits of virtualization like Vmotion," he said. "It's like stepping back several years. Adding flash to a server is not a transparent operation, and it's still a single-host solution."
PernixData FVP, on the other hand, leverages the existing flash storage in customers' servers to decouple capacity and performance, Kumar said. It provides seamless operation and fully supports clustered hypervisors. And it supports both read and write operations. "It includes fault tolerance, with writes replicated so that if a server crashes, the hypervisor moves the data to another server," he said.
Flisher said the software drops right into existing server and storage environments, with no rip-and-replace of existing hardware needed. This provides the functionality of all-flash arrays without the need to purchase new hardware, he said.
eGroup, which also partners with EMC, has found the software to be a great way to add performance to existing customer storage, eGroup's Flisher said.
"EMC Isilon provides scale-out storage capacity, but is not meant for tier-one storage use," he said. "But when we put PernixData in front of Isilon, we saw real high-end read and write performance. We ran all sorts of high-end workloads on Isilon that normally you can't do with Isilon."
PernixData FVP has been in beta testing for about 9 months, with over 20 solution providers and 100 customers participating, Kumar said. The company plans to us a 100-percent channel model for its software, he said.
The software is currently available only for VMware virtualized environments, but next year is slated to be given KVM and Microsoft Hyper-V support, Kumar said.
It is now available in an enterprise version with a list price of $7,500 per VMware ESX host server, and it can be used with an unlimited number of hosts and virtual machines. Pricing for an SMB version with limited host and virtual machine support, as well as a service provider version with per-use pricing, will be unveiled later, he said.
PUBLISHED AUGUST 5, 2013