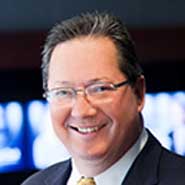 Mike Trebilcock
MCPc Inc., the fast growing SP500 national power that has changed the solution landscape with its own Anyplace Workspace, is bringing a host of technology visionaries to Cleveland next month for a national summit before 700 of its top customers.
MCPc's Game Changers kickoff, which will be held Jan. 5-9 at the Renaissance Hotel in Cleveland and is being billed as the biggest tech event in the Midwest, includes Cisco Senior Vice President Howard Charney, one of the driving forces behind the networking Ethernet standard; VMware Executive Vice President Sanjay Poonen, who is driving dramatic changes in virtualized end-user computing; and NetApp Vice Chairman Tom Mendoza, who is overseeing advances in storage technology. The summit will feature a solution expo with cutting-edge offerings from more than 40 MCPc technology partners.
"The industry is changing very, very fast," said MCPc Chairman and CEO Mike Trebilcock, a nearly 30-year technology veteran who has piloted the Cleveland-headquartered company to No. 89 on the SP500 with $263 million in sales and a compound annual growth rate of more than 20 percent for the last several years. "Organizations have gone from innovations in infrastructure to voice to data center and video. It is one thing to make those leaps from a technology perspective. Now we are being asked to make those leaps from an operational perspective. Operationalizing the technology is the biggest opportunity we have had as VARs in the history of the channel. We think we have got the employee base, the culture and the leadership team to excel in this fast-changing environment."
[Related: The 10 Biggest Managed Services Stories Of 2013]
The rapid operational changes being faced by businesses will be front and center at the conference with keynote sessions from among others: Citrix Senior Vice President Al Monserrat, who is powering bring-your-own-device (BYOD) and cloud changes; Hewlett-Packard Senior Vice President Indirect Sales Enterprise Group Sue Barsamian, who is driving an innovative full-portfolio channel sales transformation at HP; Dell Vice President Steve Lalla, who heads up the company's cloud client business and has been involved in a number of key Dell acquisitions; and Dell Vice President Curtis Hutcheson, who heads up storage and servers.
The event, which is being keynoted by Doug Keeley, the CEO of The Mark of a Leader organization, will also feature an address by The Channel Company CEO Robert Faletra on the evolution of solution providers. The Channel Company is the parent of CRN. MCPc was recognized by CRN and The Channel Company with the 2013 Best of Breed Transformation Elite Award for its solutions prowess with the Anyplace Workspace.
NEXT: MCPc CEO: Anyplace Workspace Provides Customers A Competitive Advantage
The MCPc kickoff comes with an increasing number of customers looking to MCPc to help them navigate the treacherous journey to cloud computing with the Anyplace Workspace and its managed services offerings.
"The message to our customers is: we are an extension of you," said MCPc's Trebilcock. "Our responsibility is to get to understand your current (IT) state, understand your desired state and provide some level of assessment with a gap analysis to determine the worthiness of your organization to put things in the cloud. That is the responsible, operationally minded approach to where this industry is right now. We are not here to sell you anything. We are here to help you get to where you want to go: The way we do that is through expert consulting, assessments and getting to the real data with complete transparency."
The Anyplace Workspace, which is aimed at allowing customers to drive significant competitive advantage with an agile mobile infrastructure that allows employees to work from anywhere on any device, is entering phase 2.0 with new reference architectures and functionality, said Trebilcock. MCPc conducts more than 2,000-plus Anyplace Workspace projects a year and has standardized 12 reference architectures that are "tried, true and tested," said Trebilcock.
"This is absolutely a competitive advantage for customers," said Trebilcock of the Anyplace Workspace. "It is about a framework and an IT environment that we have lived for the last couple of years and in part for the last dozen years."
One of the secrets to MCPc's success has been, said Trebilcock, the "breadth and depth" of its technology solutions offerings in a landscape where many solution providers are increasingly specializing and subcontracting work to other providers. That ability to rely on a single provider in a complex, fast-changing technology market, in fact, has won MCPc plaudits from its customers.
"We have been marching to our drumbeat," said Trebilcock. "The boutiques to me have no peripheral vision. They don't know what is happening upstream from an infrastructure perspective or downstream from a data center perspective. They create havoc. When it comes to outsourcing, customers like the idea of having a trusted advisor instead of managing a whole slew of people they have to deal with. That has worked to our advantage."
Trebilcock said MCPc's end-to-end solution provider business model is attracting Fortune 500 clients along with a large number of customers with 500 to 5,000 seats. "It is the breadth, the depth and business model that makes all this possible," said Trebilcock of the Game Changers event.
PUBLISHED DEC. 19, 2013