Page 1 of 2

When Apple launched iOS 5 earlier in October, a key feature it had been touting was the ability to seamlessly synch and share iWork-based documents between iPads and iPhones over the air via iCloud.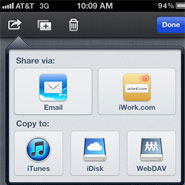 iWork on iCloud
There are, in fact, seams. And Apple should have done better. Having stated that, the package of products and services from Apple that turn standalone applications into mobile, collaborative apps is important and will, hopefully, get better over time.
Pages, Keynote and Numbers are very nice stand-alone apps in and of themselves and Apple has done a great job of providing a common interface for productivity between its Mac OS X computers, its iPhones and iPads. But since Apple has taken the steps of pitching these as part of a broader solution for being productive on the go, let's look at the solution.
iWork
As noted, this is the suite of applications that include Pages for word processing, Keynote for creating and editing presentations, and Numbers, Apple's spreadsheet application. They are all adequate productivity applications -- even for those who have been organized around the Microsoft Office suite for any length of time.
On the Mac, Pages provides a much different ribbon layout that Microsoft Word. Essentially, you're given a choice of actions including outlining, dividing a document in to sections, adding boxes for text, shapes and photos, tables, charts and comments for those who are collaborating. You can also navigate to the ribbon for choices in fonts, text and background colors and embedded multimedia.
Some will view this as simply a clean, straightforward word processing application. It is.
The same minimal-but-functional approach has also been taken with Keynote and Numbers. For the Mac, each of these applications by themselves is $19.99 as a download, or $79 as an iWork bundle from the Apple Mac Store. On the iPhone or iPad, they are $9.99 from the Apple iTunes App Store. But that's the key. Unlike Microsoft's Office, these applications are available on Apple's mobile iOS platform with a very similar interface.
Next: Trying To Get The Pieces To Work In Harmony

1 | 2 | Next >>