Printer-friendly version
Email this CRN article
In order for a monitor to be display of the year, the CRN Test Center felt it first had to be a flat-panel display at least 19 inches in size because anything smaller simply wouldn't be impressive at all. Then it had to have VGA and DVI inputs, S-Video and composite video inputs and built-in speakers. It was also decided that a built-in TV tuner couldn't hurt.
Samsung has been building excellent displays for years now, and its MP line of multipurpose displays has been particularly exciting. With the announcement of the SyncMaster 192MP, Samsung finally has a 19-inch display offering the same great features contained in the smaller units that came before it. The SyncMaster 192MP is a real winner. Note that the TV tuner is not so much built-in as it snaps onto the back of the unit. But this was done intentionally to prevent everyone in an organization from using their TV tuner; this way it's left up to the IT department.
The tuner comes with the display, and if an employee is authorized to have a TV tuner, the solution provider can simply pop it in place. The TV turner supports worldwide TV and video signals, including NTSC, PAL and SECAM, and the display is U.S. closed-captioned-enabled.
The 192MP offers three brightness modes designed specifically for PC, Internet and entertainment applications. The PC mode generates a brightness level that is ideal for traditional text-based computing. The Internet mode's increased luminescence is specifically designed for viewing Web pages and streaming video. The entertainment mode, which is the brightest, is designed for gaming, multimedia content editing and watching TV.
The Samsung SyncMaster 192MP includes picture-in-picture functionality and is HDTV-ready. A digital zoom allows the magnification of any part of the on-screen image up to 64X. The monitor has attachable speakers and is wall-mountable, which is perfect for a conference room. Samsung provides a three-year parts and labor warranty and toll-free technical support 24 hours a day, 365 days a year.
Samsung offers solution providers a wealth of incentives, special offers, rebates and demo units through its Power Partner program. Reward points and spiffs are available for nearly every Samsung product, and vendor sales representatives work closely with partners.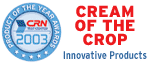 CHANNEL PROGRAM SNAPSHOTS
> SyncMaster 192MP
PRICE: $899
WARRANTY: 3 years parts and labor warranty
DISTRIBUTORS: ASI, D&H, ICG, Ingram Micro, Synnex, Tech Data
AUTHORIZATION REQUIREMENTS: None
MODEL NUMBER: SyncMaster 192MP
COMPANY NAME: Samsung Electronics Americas
Irvine, Calif.
(866) 542-7214
www.samsungusa.com/monitor
Printer-friendly version
Email this CRN article