Page 1 of 2

If you or your customers have been avoiding virtualization because of its cost and complexity, the CRN Test Center has discovered a hidden jewel that blasts through both of those roadblocks. CloudShare this week announced ProPlus, a version of its "IT as a service" platform that permits deployment of as many as six virtual instances of Linux, Oracle 11g, Office 2010, Active Directory, SharePoint or other Windows server apps for just $49 per month.
If $49 is still too much, CloudShare offers its slightly more limited free version, which in our tests was found to be quite responsive and stable.
In beta since about this time last year, the so-called Pro (free) version is limited to three virtual machines, only one of which can be running Windows (XP or 7) on a single CPU, plus 120 GB of storage, 6 GB of memory and certain runtime restrictions. The Pro version is aimed at software developers and testers, and anyone just looking to kick the tires.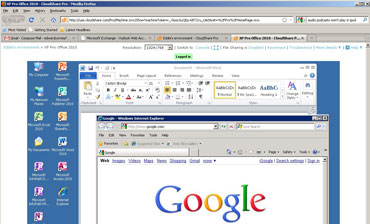 Click image for full-sized view.
After a brief sign-up and e-mail validation process, we were able to create a VMware image running Windows XP and Office 2010 in literally two minutes. Starting up and accessing the virtual machine from a Windows box took just a few minutes more. After automatically downloading a small Firefox plug-in, the browser displayed the virtual instance surrounded by a white border (see screenshot). Within the border were controls for setting the resolution, switching to full screen and to enable file sharing with the local host system. With fire sharing enabled, local drives appear along with virtual ones in My Computer.
The best way to install software on the virtual machine is from the Internet. In the screenshot, you'll notice that we're running Microsoft Word and IE, the latter of which is displaying a live Web page. From here, you can browse to Web sites, FTP and mail servers, telnet or other Internet-based resources that contain additional software you'd like to install on your virtual desktop.
Once set up as desired, the image can be preserved using a snapshot, which also permits a title and descriptive text to be added. Once the snapshot is completed, a message appears offering to e-mail a link for sharing the image.