Page 1 of 2

For much of the past three years, since smartphones and tablets have become ubiquitous, it's been difficult to find good, reliable technology to allow printing directly from your handheld.
With a company like Samsung, which manufactures smartphones, tablets and printers, you had to believe it was only a matter of time before they got it all working together. With Samsung's SCX-4729FW and free Mobile Print app for both Android and iOS, the company has now done it.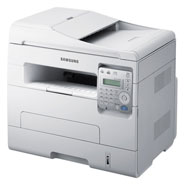 Samsung SCX-4729FW
The CRN Test Center had the opportunity to evaluate the SCX-4729FW, a black-and-white desktop multi-function printer. The Wi-Fi-capable network device set up in about 10 minutes on our wireless network, and within a few minutes of that we were able to begin printing from mobile devices, a MacBook Air and a PC running Windows 7 professional.
As a standard enterprise printer – think small office or workgroup – it's priced somewhat competitively at $399. It's small footprint makes it a nice desktop printer, and not a problem to lift out of the box and set up. (At about 29 pounds, one person should be able to lift and set it in place.)
From a cold start, we stop-watched the SCX-4729FW at 22.7 seconds time to first print; from there, it printed a six-page document in 12 seconds. That's fine for this price point in a desktop printer.
The copy function of the device worked flawlessly, copying a document in less than three seconds – and with the multi-page feeder, it was able to copy a 10-page document in 20 seconds. The scan-to-PC function was similarly outstanding. After installing the MFP management console (from CD) onto the PC, scanning from the SCX-4729FW – via Wi-Fi on the network – worked amazingly. In both black and white and color, pages took about four seconds to scan wirelessly over the network to the PC running Windows 7.
Additionally, scanning documents from the SCX-4729FW via the Wi-Fi network to mobile devices worked fantastically. While apps for both iOS and Android exist for turning devices into scanners themselves, scanning from the SCX-4729FW to the device provided much greater quality.
Where Samsung adds value with this printer is in its introduction of straightforward Wi-Fi support and support for printing from mobile devices.
Though it's not perfect, Samsung is providing a very nice first step in mobile printing.
We downloaded and installed the Samsung Mobile Print into an iPad, an iPhone and and the Samsung Galaxy Tab 10.1 running the Honeycomb version of Android. Here's what we found: