Printer-friendly version
Email this CRN article
Double the speed for the same price or less. That's the story from Samsung, which in October began shipping the Samsung SSD 830, a series of 2.5-inch solid-state drives with a SATA 3.0 interface, capable of a maximum theoretical transfer rate of 6Gb/s.
Speeds are much lower in tests reflective of the real world, of course, but the CRN Test Center has confirmed that Samsung's latest SSDs did in fact deliver double the performance of its predecessor, the 470 series, which we tested and liked in May.
Unlike the 470 series, which employed Samsung's 30-nm. multi-level cell (MLC) storage architecture, the 830-series drives are made with 20-nm-class double data rate toggle NAND flash memory. Your results will vary of course, but in tests performed here at the CRN Test Center, the 128-GB review sample managed a maximum sustained throughput of 170.19 MBps, and 45,568 input/output transactions per second (IOPS). The drives are rated at sequential read speeds of up to 520MB/s and sequential writes of up to 320MB/s.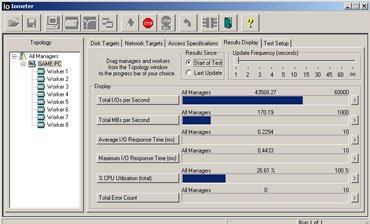 To test the new Samsung drive, we fired up our six-core Intel Core i7-based test fixture, which consists of an intel DX58SO Extreme motherboard with 4GB 1333-MHz DDR3 memory in a two-channel configuration running 64-bit Windows 7 Ultimate N. IOMeter was used to measure transaction processing and data throughput performance using our standard optimization methodology, which gradually increases the number of pending IOs per target until performance falls off. The best performance was seen at a setting of 10 pending IOs per target, with sequential reads of 4K chunks of data. Performance fell off as randomness was increased.
The Korean electronics giant has been an original equipment manufacturer of memory and SSD-drive storage controllers for years, and only this year began shipping a branded line of SSD drives for consumer and retail markets, incorporating its triple-core ARM-based multitasking drive controllers. The 470 Series comprises 2.5-inch SATA II SSD drives in 64GB, 128GB and 256GB models that list (respectively) for $120, $195, and $369.
Like the 470 series, Samsung 830 series SSDs are competitively priced. When purchased as an upgrade kit, the 64-GB model lists for $129.99; the 128-GB drive sells for $229.99; a 256-GB model for $429.99; and the 512-GB version costs $849.99. The desktop kit includes a data cable, adapter for mounting it in a 3.5-inch bay and a copy of Norton Ghost hard drive imaging software. A notebook kit includes a cable adapter. Samsung 830 series drives are covered by a three year warranty, are rated at 1.5 million-hours MTBF, and are recommended by the CRN Test Center.
Printer-friendly version
Email this CRN article