Page 1 of 2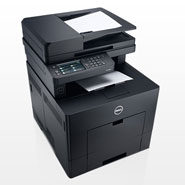 Dell C3765dnf Workgroup Color Printer
There's a reason why the Dell C3765dnf Workgroup Color Printer looks and acts just like the Xerox Work Centre 6605; Xerox manufactures both machines. Dell puts a black case on its machine and -- for better or for worse -- supplies some of its own software.
First, we'll review the printer's hardware characteristics. Like its Xerox counterpart, Dell's 3765 is a sturdy, all-purpose color laser printer with Adobe PostScript that also handles the scanning, copying and faxing requirements of small and medium-sized companies and departments. It delivers a maximum print rate of 36 pages per minute black and color output, has a rated duty cycle of 80,000 pages per month and lists for $1,099 with a duplex unit for two-sided printing.
Also like its sibling, Dell's printer arrives with its CMYK toner cartridges preinstalled and ready to go. An illustrated "placemat" provides a step-by-step guide for setting up the unit and getting the software installation process started. There's also a multilingual guide to the control panel. Neither of these documents were helpful, however, when the printer wouldn't save and apply changes to network settings entered through the control panel. The solution for that was to enter the network settings we wanted through the control panel and then initialize the printer to its default settings, which then saves those network settings. This seemed unintuitive, but it worked.
Dell's driver and utility installation software also proved frustrating. The company provides drivers for Linux, Mac OS X, Unix and Windows (including Win8 and RT), but Dell's installation tools cater mostly to Windows. Still there were issues. The setup software didn't detect the printer until we manually entered its IP address. After a restart, the printer utility again was unable to detect the printer and crashed several times. Setting up the printer on Mac OS X was worse. All tolled, it took testers more than an hour to install drivers and prepare the test machines for printer tests.