Page 1 of 2


And the winner is...the Dell PowerEdge R720, the 12th generation two-socket, 2U Xeon server, which outperformed last year's CRN Product of the Year for Servers, its cousin, Dell PowerEdge C6145, by a substantial margin.
Announced last week and shipping today, the massively expandable PowerEdge R720 is intended to replace Dell's venerable PowerEdge 710, and is well suited to financial transaction processing, data warehousing, high-performance computing, highly virtualized environments and other data- and IO-intensive applications.
The R720 is built around Xeon E5-2600 series processors, the Sandybridge (22 nm) edition of Intel's sturdy server platform. The tested unit was equipped with two, eight-core E5-2680 processors running at 2.7 GHz. Each dual-threaded core is accompanied by 2.5 MB of cache memory of its own and has access to another 25 MB of level 3 cache. Expandable up to 768 GB in 24 DIMM slots, the tested unit arrived at the CRN Test Center with Windows Server 2008 R2 Enterprise SP1 running on 128 GB of DDR3 1600MHs SDRAM.
The PowerEdge R720 turned in the fastest Geekbench score we've seen here in the CRN Test Center, which until now was reported in our review of the Dell PowerEdge C6145 at about this time last year. Before running their first benchmark, testers configured System Properties for maximum performance in Windows Advanced System Settings dialogue. Using Primate Labs' Geekbench 2.2.7, testers observed a peak score of 30,923, a gain of about 37 percent over the 22,607 peak score delivered by the faster of the two C6145 server nodes.
[Related: 2012 CRN Data Center 100]
But the story gets really interesting when considering what's under their respective hoods. To achieve a score of 22,607, the C6145 was tapping 48 processor cores, or about 471 points per core. With only 16 cores, the R720 peaked at 30,923, a point-per-core score of 1933. The amount of memory and number and type of drives and their RAID configurations varied from one machine to the other, but always in favor of the C6145, further evidence of the R720's power edge over its Interlagos-based predecessor.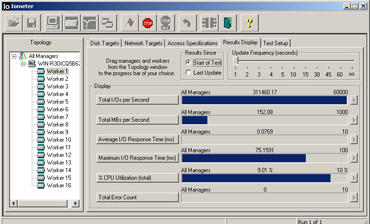 Click image for full-sized view.
The PowerEdge R720 also delivered impressive IOmeter numbers for throughput and transaction processing right out of the box. With the optimal number of pending IO transactions per target identified as 24, the R720 was able to deliver a sustained transaction rate of 311K IOps which transferring data at 140MBps. This test was performed with read operations of 512 byte files. To test throughput, testers switched to a 32K byte file size and observed a sustained rate of 462MB/s while performing about 15K IOps.