Page 2 of 2

After configuring Windows for maximum performance, testers downloaded Primate Labs' Geekbench 2.3.2 and fired up the 64-bit version. Dell's PowerEdge R820 delivered a top Geekbench score of 19,794, an increase of more than 30 percent from the PowerEdge R810 that we tested in March, 2010. Next we kicked off Intel's Iometer benchmark utility to measure the R820's transaction processing and throughput creds. Results were pretty good, with a maximum of around 61,000 I/O transactions per second when performing sequential reads of 512-byte files and a top transfer rate of 1.6 Mbps for sequential reads.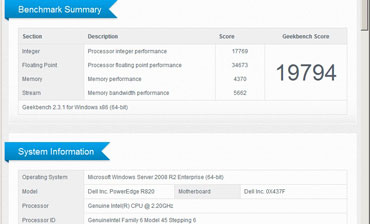 Click image for full-sized view.
The PowerEdge R820 continues the tools-free design, which makes service and maintenance a breeze. Most internal components can be removed without tools, including fans, expansion and riser cards, and even the drive backplane. The system consumed about 160 watts at idle and peaked at 260 watts while performing benchmarks. Dell also includes OpenManage, its powerful browser-based software for performing remote diagnostics and troubleshooting. Its tools also plug directly into Microsoft System Center and VMware vCenter, as well as management platforms from CA, HP and IBM.
Pricing for the PowerEdge R820 starts at $7,499. As tested, the unit would list for $18,669 including all the hardware we've described here plus quad-port gigabit Ethernet, an out-of-band management port, disk backplane with a 16 TB maximum and multi-tier SSD storage option. The CRN Test Center recommends the PowerEdge R820 for its improved speed and greater expandability than its predecessor and for being a highly capable server for virtualization, transaction processing, HPC or general computing needs.

<< Previous | 1 | 2