Page 1 of 2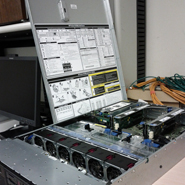 HP Proliant DL380p
In the crowded world of rack servers, the HP ProLiant DL380p 2U server stands out. This eighth-generation ProLiant offers twice the memory capacity of its seventh-gen predecessor, a third more cores and as much as triple the storage capacity -- a maximum of 36 terabytes of internal SATA.
Add a low starting price, numerous configuration options, advanced management features and stellar benchmark performance and the result is a solid choice of computing platform for companies large and small. "It's big in data centers, and it's a top seller for small business because it's so flexible," said Barry Brooks, product marketing manager for the HP ProLiant DL380p eighth-generation server.
"You've got multiple drive cages, up to 24 memory DIMMs, and you're not confined to which NIC is on the motherboard." The starting price of $2,896 includes one Intel Xeon E5-2600 series processor, minimal memory, no hard drive or operating system, a 4 x 1 GB NIC and a single 460 W power supply. The system as tested for this review would have a list price of $16,921.
[Related: HP Launches New Support Services For ProLiant Gen8 Servers]
The eight-gen, two-socket server is the first to use HP's all-new method of processor mounting. "Processor placement was the biggest cause of system failure," according to Brooks. "Smart Socket is designed to ease your pain if you want to do a processor change out," he said. A proprietary chip insertion mechanism prevents bent pins. Period.
Also new in the DL380p, which also lends to its fast IO performance, is the Smart Array P420i controller, an updated version from the seventh-gen with support for up to 25 internal hot-plug 6 Gb/s drives, SATA, SAS or SSD in 2.5- or 3.5-inch form factors with support for RAID 0/1, 1+0, 5, 6, 50 or 60. The device can handle as much as 2 GB of DDR3 cache memory running at 1,333 MHz with data retention and flashback write cache.