Page 2 of 3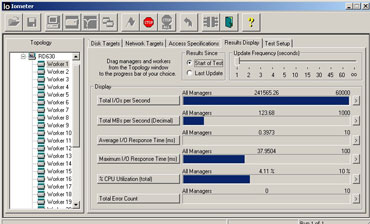 Click image for full-sized view.
Lenovo knew exactly what it was getting into. Prior to sending a review unit, the Test Center gave the company a list of specifications and a description of how the machines from Dell and HP were configured along with a request to configure its machine as closely as possible to the other two.
For testing, Lenovo sent a ThinkServer RD630 populated with two Intel Xeon E5-2690 2.9GHz processors, with 128 GB of 1,333MHz DDR3 memory, six 600-GB Toshiba 10K, 6-Gb/s SAS drives (model MBF2600RC) configured as a single RAID 5 array and controlled by an LSI MegaRAID SAS 9260-8i RAID controller. The machine also arrived with Microsoft Windows Server 2008 pre-installed.
As soon as the first results came in from the 64-bit tests within Geekbench 2.3, testers knew they were looking at a worthy competitor. The first reported score, usually the slowest, was 38,201, already good enough for second place. After a few more runs, the RD630 displayed its highest score of 38,281. That cemented its status behind Dell's R720 powerhouse, which topped out at 40,250; no production server we've seen has scored higher.
But since it was supplied with 1,333MHz memory per its specified maximum, the ThinkServer was at a slight disadvantage. The machines from Dell and HP came with 1,600MHz DIMMS. So, we offered to retest the ThinkServer if Lenovo was willing to send us faster memory; the reviews team said they'd get back to us.
Meanwhile, tests of the ThinkServer's throughput and transaction processing capabilities were moderate. Using IOmeter to conduct sequential read operations of 512-byte packets, testers measured a maximum sustained transaction rate of 241K IOps and a transfer rate of 123 MBps. Switching to a 32KB block size, the transfer rate peaked at 745 MBps, finally leveling to a sustained rate of 740 MBps, while processing 22.7K IOps. The optimal queue depth for all tests was found to be 96 pending IOs. Dell's PowerEdge R720 delivered a maximum transaction rate of 311K IOps, and in separate tests it was able to transfer data at a maximum of 462 MBps.
NEXT: Under The Covers

<< Previous | 1 | 2 | 3 | Next >>