Hewlett-Packard is hoping the second time's the charm. The company on June 17 began shipping the HP ProLiant MicroServer Gen8, an all-new version of the file sharing appliance for small business it introduced two years ago. With input from channel partners and customers, HP redesigned the desktop appliance, which it positions as a manageable alternative to NAS devices for workgroups of 10 people or less. The CRN Test Center had a chance to test the WinTel-based device this week and found it to be a sturdy appliance that performed well beyond its $449 starting price.
The first thing resellers are likely to notice are improvements to serviceability. Removing a pair of thumbscrews at the rear grants access to a completely redesigned motherboard, its memory slots and expansion slots. Replacing Gen7's single AMD option, Gen8 offers a dual-core Celeron at the low end and Intel Core i3 (Ivy Bridge) in its top-end model. Its two DIMM slots double capacity to 16 GB of DDR3 ECC memory and speeds up to 1,600MHz. Total storage capacity has increased to 12 TB from 8 TB.
HP's latest MicroServer also now provides two Gigabit Ethernet ports, which can be configured for failover protection or aggregated to double the available bandwidth. The new device maintains the same seven USB ports as its predecessor, but two (in the rear) are now USB 3.0 compliant, offering transfer rates as fast as 5 Gbps. The Gen8 device loses an eSATA port and a PCIe x4 slot, but keeps its PCIe x16 slot.
Unlike prior generations, HP is now okay with allowing the 150-watt power supply to be replaced by a qualified service provider. And to prevent lost front-panel keys, the lock has been moved to the bezel; there's also a Kensington lock port to secure the entire unit. The front panel is available in four colors and hides it four non hot-swap drive bays.
NEXT: MicroServer Gen8 PerformanceThe tested unit was equipped with a 2.8GHz Intel Core i3-32220T dual-core processor, 8 GB of 800MHz DDR3 memory and two 2-TB SATA hard drives configured as a RAID 0 array. Testers were not particularly impressed with the Gen8 MicroServer's Geekbench scores, but we'd chalk that up to its less than stellar Matrox G200 GPU.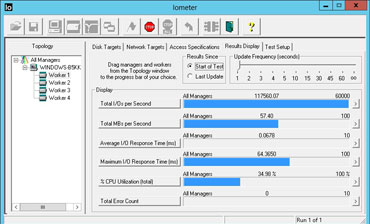 The ProLiant MicroServer Gen8 can sustain 117K IOPS (click to enlarge).
Testing was conducted with the unit set for its maximum resolution of 1,280 x 1,024. We downloaded Geekbench 2.4 from Primate Labs, which turned in performance scores that were never lower than 7400 and peaked at 7874. More impressive were the MicroServer's transaction processing and throughput performance numbers, as reported by IOmeter 2006. Its two-drive array was able to crank out a peak transfer rate of 195 MBps and a sustained rate of about 187 MBps when tested with 32K packets. Perhaps more important is its ability to process transactions, which we measured at a sustained 43K IOPS with 4K packets and a steady 117K with 512-byte data. In most cases, the optimal transaction queue size was determined to be eight.
SECOND CHANCE
HP introduced the MicroServer in 2010, pricing it at $349 with an AMD Turion II dual-core processor and 250-GB drive. It saw moderate success in EMEA, but U.S. resellers stayed away. "One of the reasons our channel partners have stayed away from this segment is because of the small revenue," said an HP spokesperson, speaking of the shared-storage market for small workgroups typically dominated by NAS devices. "You have to be reasonably technical for NAS, so we thought that with a managed, easy-to-use, remotely deployable and manageable device, channel partners could have access to the segment and make it up in volume."
The ProLiant MicroServer Gen8 now includes support for iLO 4, the company's Integrated Lights-Out embedded management engine, which makes it possible for service providers to remotely monitor, manage and configure the server. It also allows remote admins to mount media, install software and reboot, even if the machine is otherwise not responding to input.
In addition to Windows Server, the HP ProLiant MicroServer Gen8 also can be ordered with Red Hat Enterprise Linux or Suse Enterprise Linux Server; a VMware ESXi MN option is in the works. For its versatility of pricing and configuration, and the new ability to be remotely managed, the Test Center recommends HP's latest ProLiant MicroServer for small organizations and departments.
PUBLISHED JUNE 21, 2013