Page 1 of 2

With the release of no fewer than five high-end mobile computers at CES earlier this month -- including a 3D unit, a Core i7 ultraportable and two tablet convertibles -- Fujitsu demonstrates that it will continue to innovate for niche market segments.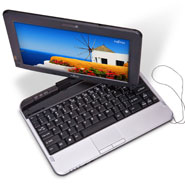 LifeBook T580 Tablet PC
Case in point: The LifeBook T580 Tablet PC, which Fujitsu sent the CRN Test Center for review. This well-equipped three pounder is built around an Intel Core i5 (model U560) processor 1.33 GHz and was running Windows 7 Professional 32-bit on 2GB of memory. It incorporates a 10.1-inch, four-point touch sensitive screen and N-Trig capacitive pen system and controller software. You don't have to be a digital artist to appreciate the capabilities that this tablet provides, particularly for 2D content creators.
With the display set at its native resolution of 1366 x 768 pixels, testers had a hard time navigating around Windows with a finger, and found reading text on menus and dialog boxes to be a strain. Switching to "Touch Mode" in the LifeBook's Launcher menu corrected this problem, growing the font size in active applications, and a few changes to Windows' default screen settings were still necessary for desktop items. Navigation was made easier when using the active stylus, which is far more precise than our stubby fingers.
But the real magic happens when launching your favorite graphics creation package. The so-called digital pencil (which takes a quadruple-A battery, included), functions much like any stylus, but adds 256 levels of pressure sensitivity and a hovering feature that causes the cursor to follow the tool's tip without touching the glass. It's also smart enough to know the difference between the tool and the artist's palm or other part of the hand, which often lays on the glass while drawing. At the same time, the digitizer also is capable of recognizing the touch of as many as four finger tips.
Testers also liked using the stylus for writing, and found that the handwriting recognition software worked pretty well. The system also worked well with Evernote, the free note taking app.
For some, this form of input might be easier than the cramped keyboard on most netbooks, but the T580's is only an inch narrower than the keyboard of a full-sized laptop, and felt pretty comfortable to type on. It's also spill resistant. The trackpad is quite small at 2.25-inches across by 1.25 up and down; far too small to be used for long periods.