Page 1 of 3

The beauty of Samsung's Nexus S -- unveiled in December -- is more than skin deep. From its shiny black (or white) plastic case to its curved-glass screen, the Nexus S is simply a great looking phone. Underneath is Samsung's 1GHz Hummingbird processor running Android 2.3, the latest version of Google's mobile operating system that finally gets most things right.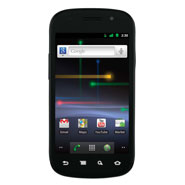 Samsung Nexus S
A result of joint development between Google and Samsung, the Nexus S is the first phone to be available with Android 2.3, the so-called Gingerbread release, and is unadorned with overlays of any kind; it's pure Android. Sweet indeed, Gingerbread presents a dramatically improved experience from prior Android versions, and fixes many of the flaws that we've been grousing about. And Samsung's four-inch (800 x 480) active matrix organic LED (AMOLED) screen is one more thing that the iPhone doesn't have. The Nexus One, Samsung's prior Nexus model, was made by HTC.
Upon firing up this little beauty, the first thing we noticed here in the CRN Test Center was a feature called live wallpaper. This presents animated patterns in the background, such as colored lines shooting up and down and all around, cloud bursts, waves of grass or Google Maps. Soon after we learned that live wallpaper drains more battery power than dead wallpaper, we killed it.
The next major enhancements we noticed were to Android's soft keyboard. This vastly improved widget now presents larger keys, all but eliminating the erroneous key presses that would send us to the hardware keyboard on other models. It's also multi-touch capable, meaning that while one finger holds the shift key, another can enter as many capital letters as are needed. Spelling suggestions still appear as characters are input.
Testers noticed a huge performance increase in Android 2.3. Applications launch more quickly, icons and settings commands execute immediately and searches appear almost instantaneously. When we deemed Gingerbread one of the 10 Coolest Open Source Apps of 2010, we noted that performance advances were largely a result of better garbage collection and optimized event handling.
Its new application lifecycle management framework is apparent; apps and their services can be stopped and/or removed from a newly designed App Manager with tabbed interface that sorts by those downloaded, installed on USB and currently running. The "what's using the battery" widget also presents more granular information and control.
Next: Nexus S Screen Rotation