Page 2 of 2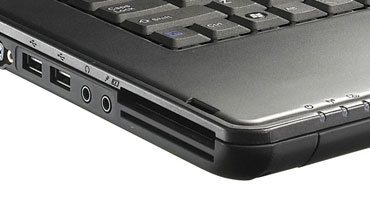 On GammaTech's DuraBook S15C, most-used ports and slots are conveniently located on the unit's front left corner.
Initially we were somewhat disappointed with this DuraBook's benchmark performance; it managed a high on Geekbench 2.2 of just 2350. However, Windows alerted us to some pending updates, after which the unit performed much better, turning in a respectable 5444.
Taking a tour around the DuraBook S15C HD, on the left edge from front to rear we find a Type II Express Card 34/54 slot, below which is the Smart Card slot. Moving rearward are the microphone and headphone jacks, a pair of USB 2.0 ports, VGA output, power input and a large exhaust vent. After about 2 hours of continuous laptop use, temperatures at the vent were around 96 degrees. The hottest area of the unit was on the bottom panel near the exhaust vent, which measured 97 degrees.
The front-most port on the right-hand side is a four-circuit FireWire port, followed by RS-232, a third USB 2.0 port, optical disk tray and Gbit Ethernet and modem ports. These latter ports are covered by a rubber plug, the only ports so bestowed. The only port to find itself in the unit's rear is the Kensington lock port. On the front is a SIM card slot (secured with a screw) and 4-in-1 media card reader for MS, MS Pro, SD and MMC formats.
The DuraBook S15C measures 14.5 x 11 x 1.5 inches and weighs six pounds, 12 ounces with the 9-cell battery, and eight pounds with the AC adapter, which draws around 40 watts. Stereo speakers are minimal but adequate for spoken media and light sound. The optical disc drive tray has a lock to prevent damage from accidental opening. Options include Bluetooth 2.1, a 3.1 megapixel webcam, (lighter) 6-cell Lithium Ion battery, and Core i5 processor. Maximum system memory is 8GB. At 1.5 x 2.75 inches, the trackpad is smaller than we'd like, but it was responsive and accurate to the touch. We like the lighted airplane switch and power switch; the latter flashes when the unit is asleep.
Gammatech's DuraBook S15C is as solid as it is good looking, and we recommend it not only for harsh work environments, but also for the mobile professional, whose usage scenarios are always putting computing resources at risk.

<< Previous | 1 | 2