Page 2 of 2

With performance set to maximum in the Windows properties dialog, testers launched Geekbench 2.3 from Primate Labs and activated the 64-bit tests. After seeing the first result, we knew we were looking at something special; the workstation had broken 40,000. Geekbench test results of HP's high-end workstation would eventually ramp up to a maximum score of 41,348, the highest we've seen on any machine, server, workstation or otherwise.
Next, we turned to IOmeter, the tool commonly used to measure system throughput and transaction processing. Results also were impressive here. Once we had identified the optimal number of 24 for the transaction buffer, the Z620 was able to transfer 32K data blocks at a sustained rate of 411MB/s. Switching to the small 5612-byte block size, we were able to maximize transactional performance at about 110K IOps.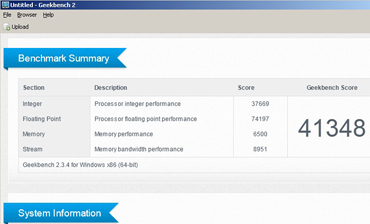 Click image for full-sized view.
Our final benchmark would test the GPU alone. While Geekbench performs tests that involve the graphics processor, it also factors in CPU, storage and other system components. For a more isolated test of the GPU, we turned to Viewperf 11 from SPEC, which tests the board using a variety of real-world apps. Scores were on par with other Quadro boards we've tested.
Physically, the Z620 is as handsome as it is sweet to work on. The side panel comes off with the flip of a locking lever; it's just as easily replaced. It exposes three internal drive bays and their slide-out drive trays, an arrangement reminiscent of many NAS devices available today. The first Xeon processor is resident on the motherboard. A second is part of a daughtercard assembly with two fans, four DIMM slots and a large plastic cowl. This is removed simply by pressing two clearly marked green tabs, as is the main processor's cowl/fan assembly to expose eight DIMM slots on the motherboard.
Drives and/or blanking plates installed in the two external bays are released from inside as well; the 800-watt power supply too is modular. Cards installed in its two PCIe 3.0 x16 and four additional expansion slots are held in place by a snap-release bar. All of these components are accessible without tools; a truly beautiful design. There are four USB 3.0 ports: two front and two rear. There also are front and rear Firewire (one each) and USB 2.0 ports (one front, four rear), as well as a pair of rear Gbit Ethernet ports and legacy PS/2 ports. Handles front and rear round out the design of this rugged, powerful workhorse; the Z620 Workstation from Hewlett-Packard is a product that's recommended by the CRN Test Center for video production, high-performance computing and other compute-intensive applications. Pricing starts at $1,649.
PUBLISHED NOV. 29, 2012

<< Previous | 1 | 2