Page 1 of 2


Samsung has done it again, doubling the throughput performance of its solid-state drives while keeping prices steady. The company today unveiled the 840 Series, a new line of SSDs for professionals and consumers starting at $99 that offer rated transfer speeds in excess of 500 MB/s.
Last November we reviewed the Samsung SSD 830, which at the time doubled the performance of predecessor drives from the 470 series, which we tested the prior May.
For testing, Samsung sent the CRN Test Center a 512-GB 840 Pro, the largest-capacity drive of its higher-performance line. We connected the drive to a SATA 3 port on our six-core Intel Core i7-based test fixture, the same platform used to test the 830 Series drive. This consists of an Intel DX58SO Extreme motherboard with Core i7 980X Extreme processor, 4-GB 1,333MHz DDR3 memory and 64-bit Windows 7 Ultimate N. The SATA 3 spec has a theoretical maximum transfer rate of 6 Gb/s. IOmeter was used to measure transaction rate and throughput using the Test Center's standard testing methodology for maximizing performance by adjusting the pending IOs per target.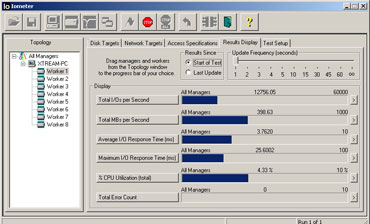 Click image for full-sized view.
With a setting of 48 pending IOs and a test-data block size of 32 KB, testers were able to achieve a sustained transfer rate of 398 MB/s (shown), more than double the sustained throughput of the 830 Series drive, a 128-GB unit that delivered 170 MB/s. Switching our efforts to maximizing transaction processing, we changed the block size to 512 bytes and cranked the pending IOs to 96, where we found a sustained transaction rate of more than 95,000 IOs per second (IOps) compared with around 45K IOps for the 830 series. All maximum performance figures were achieved while performing sequential read operations; rates with random operations were slower.