Page 2 of 2

Within IOmeter, testers are able to vary performance by adjusting the number of outstanding IO transactions per target, a parameter also known as the queue depth. Other significant performance swings can be brought about by changing the access specifications, a group of settings that includes block size and randomness.
Most systems we've tested exhibit faster throughput with the larger test-block size (32K bytes) and faster transaction processing with small (512-byte) blocks. However, the RD5200 exhibited the best transfer rate with 4K-byte blocks. In fact, the fastest transaction processing and data transfer performance we could generate all came with the same access specs: that of sequential read operations of 4K-byte blocks.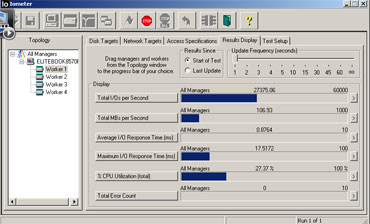 Click image for full-sized view.
The RD5200 delivered a maximum sustained transfer rate of about 106 MB/s while processing transaction at around 23K IOps. According to Josh Jones, a Netgear quality engineer, the transaction rate was approximately on par with expectations, but the transfer rate was less even than wire speed. "Gigabit Ethernet tops out at 125 megabytes per second," he said, adding that under testing with 10-GB Ethernet, rates should be approaching 300 MB/s.
Still, the RD5200 delivers adequate performance for its price point, and it includes software capabilities for which other storage vendors charge extra. The RD5200 features native file- and block-level deduplication for NAS and SAN configurations. It also supports thin provisioning and unlimited snapshots. What's more, links for file and block replication are protected with 128-bit encryption and support backup software from Acronis, CommVault, Quest, StorageCraft, Symantec, Veeam and other major vendors.
The base system is built around an Intel Xeon quad-core 2.66GHz processor with 16 GB of ECC memory, dual redundant power supplies with failure alarm two 10/100/1000 Ethernet ports and two 10-Gb ports; all ports feature load balancing and failover protection. NICs also support virtual network interfacing, all of which is configured dynamically and visually through the browser. Out of the box, the RD5200 is certified for Citrix, Microsoft and VMware.
The software embedded within the RD5200 is ReadyDATA OS 1.0, a Solaris offshoot with the fantastic ZFS file system that natively understands file caching from memory; there's no need for data tiering and migration. It's just automatically fast with support for RAID 0, 1, 5, 6 and 10, instant provisioning and expansion with support for hot spare. RD5200 specs also include support for CIFS/SMB, AFP 3.3, NFS, FTP and iSCSI target support for Linux/Unix, Mac OS X and Windows.
Shipping since late June, Netgear's ReadyDATA RD5200 is sold exclusively through its PowerShift channel partners. Street pricing starts at about $10K pre-populated with 12 SATA drives; Netgear's 24-drive, 4U expansion chassis sells for around $2,500. The ReadyDATA RD5200 would be well suited as a stand-alone storage server for a small company, department or branch office, as additional primary or virtualization storage for existing servers, or all of the above. It's a recommended product by the CRN Test Center.
PUBLISHED OCT. 8, 2012

<< Previous | 1 | 2