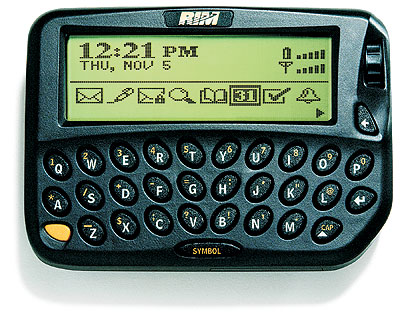 Remember the hey-day of ER, the hit NBC hospital drama? It's likely that the doctors on that show kept in contact with the RIM Inter@ctive Pager 950 (pictured). Announced Aug. 26, 1998, the 950 measured 3.5 inches by 2.5 inches by 0.93 inches and weighed in at 3.95 ounces without the battery.
Seen as one of the first official BlackBerry devices, the pager could send and receive messages with guaranteed delivery and no garbling. Users could initiate custom email, faxes, alphanumeric pages and text-to-voice messages. This decade-old bad boy would handle full-length messages of up to 16,000 characters and included a 32-bit Intel 386 processor with 1Mb of flash memory plus 204 Kbytes of SRAM. Inside was a 2W transmitter and high efficiency receiver.
The 950 offered a clear graphic LCD with backlighting, a selectable 8-line or 6-line display, a 31-key PC-style keyboard; a thumb-operated roller wheel that operates similar to a PC mouse; an address book that could store up to 1,000 entries; selectable alerts; and an intuitive menu-driven interface. The 950 opened the door to mobile communications with a powerful messaging application and could run about three weeks on a single AA alkaline battery, depending on usage.
The RIM Inter@ctive Pager 950 used BellSouth Interactive PagingSM Service in the U.S. and carried a price tag of $359.