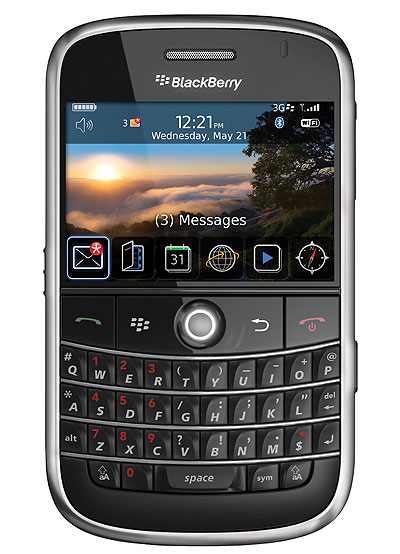 Probably the most coveted of all BlackBerry models, the BlackBerry Bold 9000 was announced with a great deal of fanfare on May 12, 2008. While it likely won't be available in the United States until October, the Bold has already received high praise and rave reviews and has been officially released in some international locations, such as Australia, Canada and Malaysia.
Billed as the BlackBerry the salivating smart phone buying market has been waiting for, the BlackBerry Bold 9000 is the first BlackBerry device to support high-speed HSDPA, or 3G, networks. It also ties in built-in Wi-Fi (802.11 a/b/g) networks and GPS; features a 624 MHz mobile processor; and includes 128 MB flash memory, 1 GB on board memory, and an external microSD/SDHC card slot.
The Bold features a half VGA 480 by 320 high-resolution display, an enhanced HTML Web browser and advanced multimedia capabilities. The enhanced display also helps the device mimic the desktop when it comes to viewing Web pages. A trackball can be used as a mouse making for easier navigation, which includes "Page View" or "Column View." Users can also zoom in on specific parts of a Web page and emulation settings let users pick whether they want to view sites in full desktop-style HTML and layout or in the mobile version. Attachments can also be downloaded from within the browser and streaming video is supported through real-time streaming protocol (RTSP).
The Bold also comes standard with BlackBerry applications like phone, email, messaging, organizer and browser and works with a host of third-party mobile business and lifestyle applications. Users can also download many commonly used files, such as Microsoft Word, Excel or PowerPoint and edit them on the handset using a pre-loaded DataViz Documents to Go suite.
The BlackBerry Bold integrates with BlackBerry Enterprise Server for security and IT administration within several email environments like IBM Lotus Domino, Microsoft Exchange and Novel GroupWise. The device can also work with BlackBerry Professional Software for SMBs BlackBerry Internet Service and BlackBerry Unite software for SOHO and home users.
The Bold offers a two-megapixel camera with video, flash and five times digital zoom. The media player displays pictures and slideshows, plays movies in full screen mode and manages music collections.
The BlackBerry Desktop Manger software also includes Roxio Media Manager for BlackBerry and Roxio Photosuite 9 LE, tools that let users manage music and video and enhance pictures and create photo albums. The new BlackBerry Media Sync applications lets users integrate their Apple iTunes digital music with the Bold and support for High Speed USB 2.0 enables the transferring of files from the desktop to the Bold.
It also comes with several of BlackBerry's premium phone features like Speaker Independent Voice Recognition for Voice Activated Dialing (VAD) and Bluetooth 2.0 support. It also features dedicated send, end and mute keys; smart dialing; speed dialing; conference calling; call forwarding.; noise cancellation technology that offsets background noise; speaker phone; and support for polyphonic, mp3 and MIDI ring tones.
The pricing for the BlackBerry Bold 9000, which weighs 4.8 ounces and measures 4.48 inches by 2.6 inches by 0.59 inches, has not yet been announced in the U.S.