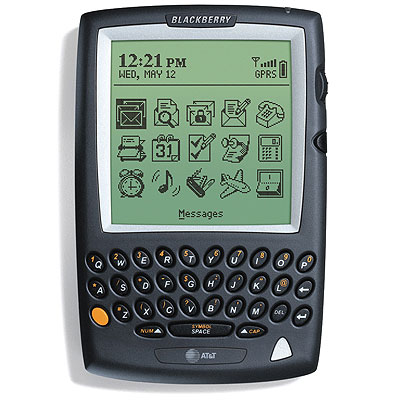 It's hard to imagine that early BlackBerry models didn't support voice calls, but it took RIM a good four years or so to make a phone a standard feature of BlackBerry devices. The first one to include GSM/GPRS voice connectivity, the BlackBerry 5810 (pictured), was announced on March 4, 2002, giving users who once had to carry two devices -- one for email and calendaring and a cell phone to make calls --- the freedom of just one.
The java-based BlackBerry 5810 packed in a lot of the familiar BlackBerry features of today: voice, wireless email, SMS text messaging, a Web browser, an organizer, a J2ME operating system, BlackBerry Enterprise Service and the BlackBerry Web Client.
Carrying a hefty price tag of $749, the 5810 weighed in at 4.7 ounces and measured 4.6 inches by 3.1 inches by 0.70 inches. It featured RIM's thumb-typing keyboard, a navigation trackwheel and a large screen. Both the keyboard and screen featured backlighting.
On the mobile email side, the 5810 used BlackBerry's "push architecture" to let emails be automatically delivered, allowing users to read, compose, forward, reply, file or delete messages while synchronizing their inbox and folders between the device and their PC. A host of third-party applications were also available to let users view, print and fax email attachments using the handheld. A single integrated address book and inbox, served all email, voice and SMS applications, enabling users to click on an email address, telephone number or URL inside a message to automatically kick off an email, phone call or Web connection.
The 5810 also integrated with the BlackBerry Enterprise Server (BES), which supports access to Microsoft Exchange and Lotus Domino email behind the firewall, offering end-to-end encryption, performance monitoring, security and asset tracking tools.