The 10 Biggest Oracle Stories Of 2010
4:00 PM ET Thu. Dec. 16, 2010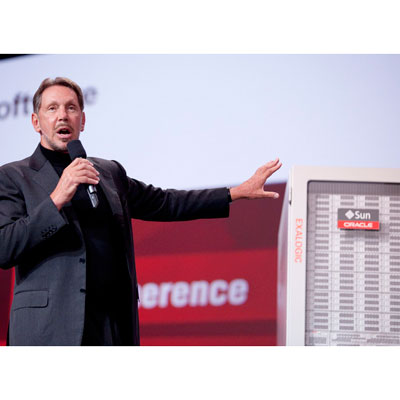 10. Doing Business The Hard(ware) Way
After wrapping up its Sun Microsystems acquisition, Oracle devoted the rest of the year making it clear that it intends to be a major player in the computer hardware market.
At Oracle OpenWorld in September the company took the wraps off of the Oracle Exalogic Elastic Cloud server specifically designed to run public and private cloud systems. The server combines 64-bit x86 processors, a total of 30 compute servers with 360 cores, with Oracle middleware such as the WebLogic server and Oracle Virtualization. Oracle also unveiled an upgrade of its Exadata database machine, Oracle's first hardware product that debuted in 2008.
And in December Oracle challenged IBM and Hewlett-Packard, it's closest hardware competitors, with the new SPARC Supercluster server that's configured with 108 SPARC T3 processors and capable of processing 30 million transactions per minute. CEO Larry Ellison mocked HP's Superdome server, calling it the "TurtleDome" server.
Check out the other biggest IT vendor stories of 2010.