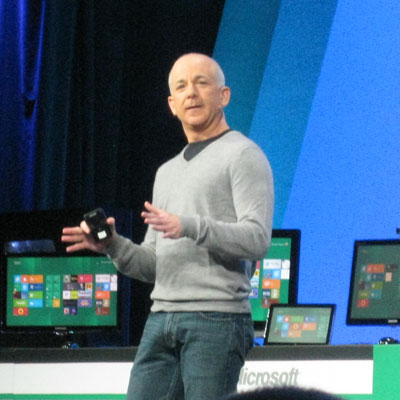 The Microsoft Windows 8 Debut
Steven Sinofsky, Windows and Windows Live division president, and a parade of Microsoft managers devoted a two-and-a-half hour keynote on the firs day of the conference to showing off Windows 8's tile-based Metro user interface, its advanced development capabilities, and its ability to run on a range of x86- and ARM-based devices.
A key element for developers is Microsoft Windows 8's support for many development languages and tools through a new WindowsRT (for "run time") set of APIs natively built into the operating system. That lets programmers develop Metro-style applications using HTML and JavaScript tools for Internet Explorer, Win32 apps using C and C++, and .Net applications using Visual Basic and C#. "You can have your choice of world-class development tools and languages," Sinofsky said.
Sinofsky touted Windows 8's touch capabilities that will allow it to run touchscreen-driven tablets as well as traditional PCs that use a keyboard and mouse. "I think touch is going to become a big part of user interaction," he said.