16 Scenes From The Microsoft Build Conference
11:30 AM ET Wed. Sep. 21, 2011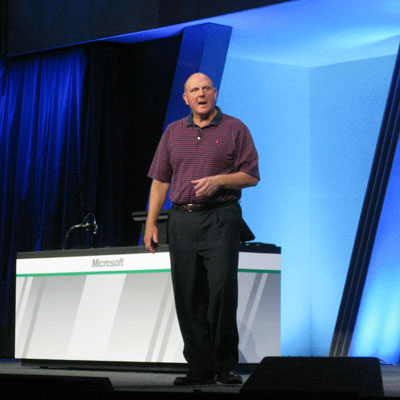 Windows Is Still The Center Of The Microsoft Universe
Windows remains very much at the center of Microsoft's efforts to move into cloud computing, Ballmer said, and to expand Microsoft software to x86- and ARM-based tablets and smartphones. "It's about broadly re-imagining Windows, taking it in new and unexpected ways," he said, pacing the stage.
The CEO touted what he said is the momentum behind the Windows Phone mobile operating system, calling it "gratifying." (Although one day later, in a meeting with financial analysts, he admitted that Windows Phone sales this year have been disappointing.) He also said there would be some 500 million PCs ripe for upgrading to the new Windows 8 OS.
"This all adds up to unprecedented opportunities for developers," Ballmer said. "We want you to be able to sell applications, and services, and content and data. We want you to be able to make money off of the work you have done."