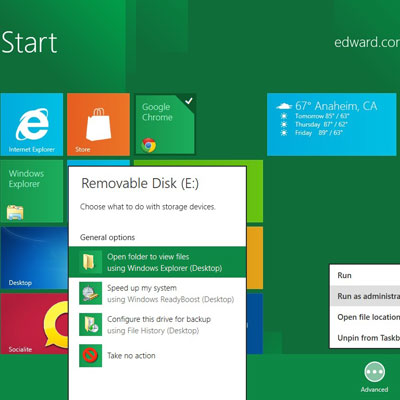 Just Show Me The Files
Does anyone ever do anything other than view the files on a newly inserted volume? I can't recall ever suddenly wanting to "Speed up my system" after inserting a USB stick. Just open the thing and let me get to work. The smaller pop-up on the far right is displayed when selecting the "Advanced" button just below it. This button sometimes appears when right-clicking an app icon. For certain other apps, the button labeled "uninstall" appears. Huh? This confusing change will surely confound users and admins, and it adds clicks to your life with no apparent benefit.
On the flip side, I do like having the ability to remove apps without making a trip to the Control Panel, but the resulting confirmation dialog contains no "cancel" button (nor does it inform me that hitting ESC will cancel it). Metro is full of such UI "dead ends," including a whole series we found in the Settings screens, next.