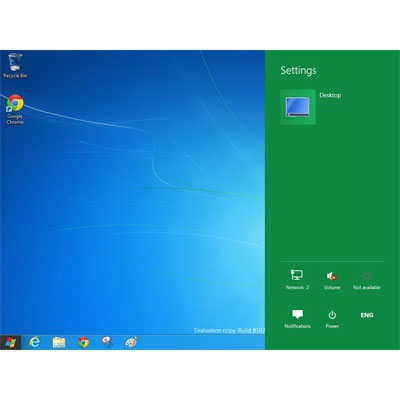 Nothing To Set, Nowhere To Go
In Windows 8, the Start menu is all but gone, and what little remains is barely functional. Chalk this up to the early release, I suppose, but it seems to me that the Settings screen consists of a few half-baked features that no one bothered to finish linking to the Control Panel.
The Start menu is displayed when the cursor gets buried in the lower-left corner of the screen. But don't expect that familiar app listing to appear when clicking Start. Instead, Metro zooms into view. Also in the Start menu are Devices and Share functions, neither of which are active in their build. When Settings is selected, a screen (like the one shown) slides in from the right side of the screen, but its functions are barely operational. Also, notice there's no "Back" or "Cancel" button here, which breaks a basic UI rule. Again, ESC does the job, but that's beside the point.