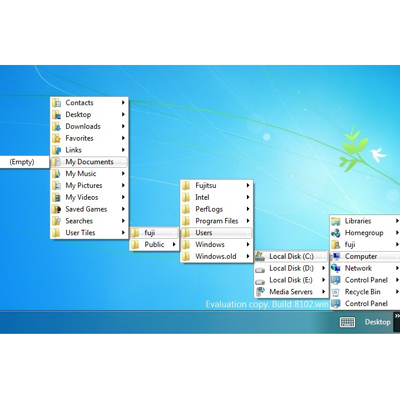 Start Is Off The Menu
The cascading menu, one of the last vestiges of legacy Windows, is now a thing of the past. Like it or not, accessing apps and data files is now done primarily through Metro or Windows Explorer, an icon for which is pinned to the desktop's new taskbar along with IE. The Start Menu has been removed, and when mousing to where it once was, a thumbnail of the "Start" screen appears. However, the slippery little devil disappears if you try to click on it. To return to the Start screen, a click is needed when the Start thumbnail is showing.
Also, if you're looking to place an icon of your computer on the desktop, you'll have to settle for a shortcut. "Show on Desktop" is now called "Pin to Start," and creates a tile on the Metro Screen that brings up a Windows Explorer window (on the desktop) showing the computer's drives.