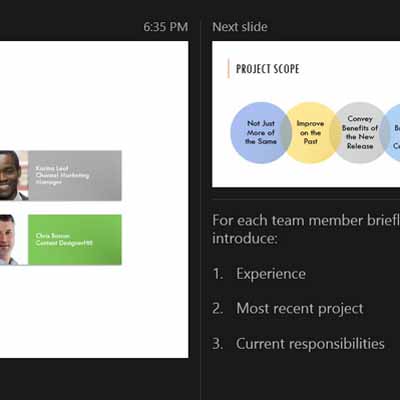 Review: PowerPoint 2013
As with Word and Excel 2013, PowerPoint 2013 doesn't require others to have the app to view your presentations; Office 2013 docs can be easily shared, allowing others to view documents through any web browser (we successfully tested it with Chrome, Firefox and Safari), with the ability to save the document to SkyDrive and generate a URL that can be emailed to participants. Slides advance almost immediately along with the presenter's, but browser back buttons are inoperable. We suggest adding a button to generate a URL after a presentation begins (for people who join late) and another to end the presentation.
Shown here are key portions of PP 2013's new presenter console, which automatically activates when a second display or projector is connected. The console lets the presenter move through all slides or skip around without affecting what's being shown. There's also a notes section, which can remind the speaker of each slide's main points. PowerPoint 2013 can access Facebook, Flickr and other cloud services for image sources and can play a single musical track through an entire presentation.