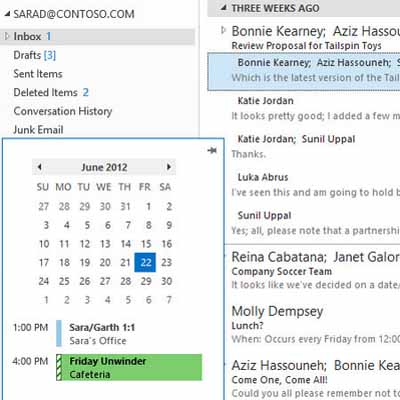 Review: More On Outlook
New in Outlook 2013 is peek, which displays information from other Office apps or modules without switching the focus away from Outlook. Drilling into a co-worker, for example, might show that person's department, rank within the organization or your recent email or instant messaging exchanges. If they're requesting a meeting, Outlook 2013 lets you peek at the relevant date on your calendar without opening the calendar app (shown).
Outlook 2013 now can be the destination for messages and appointments not only from Exchange but also from POP and IMAP mail systems and third-party calendars. It also can display updates from contacts on Facebook, LinkedIn and other social sites. And, Outlook 2013 can install beside a current version of Outlook to facilitate pilot testing and phased implementations without affecting user productivity.