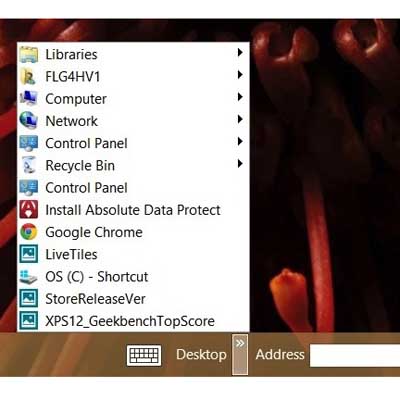 HATE: Missing Features
For desktop users, this one makes absolutely no sense. Microsoft will not include DVD codecs in Windows 8. Although it will include Windows Media Player, Microsoft will charge extra for Windows Media Center and the DVD codecs included therein. The thinking, as explained in Steven Sinofsky's May 3 blog post, was that it was too expensive and drained batter life, and media consumption in these formats is in decline anyway.
Other omitted or curtailed capabilities include file searching; Windows 8 offers no way to search for all files on a system (short of using the command prompt). Sure, the Charm bar's Search function looks for some files and apps, but it can't find Outlook messages or OneNote notes. Microsoft also has removed "Recent Documents" and no longer tracks the most frequently used apps. Also missing are Windows Desktop Gadgets, the Aero Glass theme and Aero Flip 3D. Oh, the tiled Start screen and WinRT apps are no longer called "Metro" but instead are now called Modern-Style or Modern UI apps. Too bad, too; it seemed like the industry was getting used to Metro.