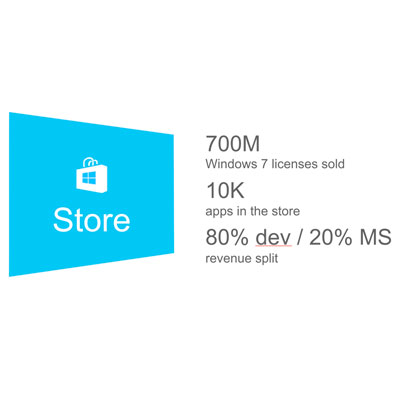 iOS Porting Makes Sense (And Dollars)
Why should you care? For one thing, Microsoft's revenue share is larger for successful apps than Apple's. After the first $25K, the revenue split for Windows 8 apps switches to 80/20 from its starting point of 70/30 (same as Apple's, which is fixed). And with 700 million Windows 7 license holders out there, many of which in theory will upgrade to Win8 eventually, the potential audience is huge while the competition is relatively small, with only 10,000 Win8 apps currently being offered.
"Angry Birds came out about a year after iPhone SDK," said Hillegass, who characterizes the hugely popular app as mediocre. "It's an OK game; it's not incredible. But, they've created an incredible franchise that makes $60 million a year in profits." There's even a TV show. "With the Windows 8 platform, there's a huge opportunity to create a franchise," he said, calling it 2009 all over again. "There's a business case." What's more, Microsoft allows developers to offer free-to-try apps that time out if not purchased. Apple does not; apps have to cost at least $0.99. Still not sold on porting? Read on.