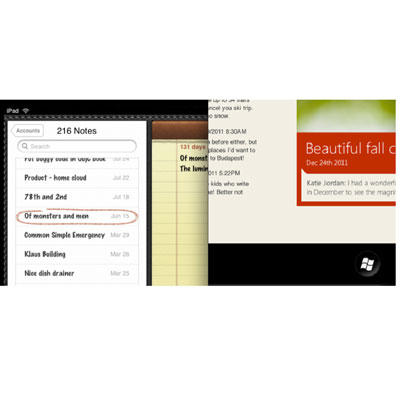 'Skeuomorphic' Vs. 'Digitally Authentic'
Then there are the things that just won't translate, and one of them is design. While Apple has encouraged developers to make apps look skeuomorphic (like things in the real world), Microsoft wants Win8 apps to look "authentically digital." Each has built its design tools accordingly. With Microsoft, "there's more emphasis on having type to describe things instead of using icons, and there are not as many reflections or shadows," Hillegass said, who correctly points out that it's fairly useless to use an icon of a 1990s-era floppy disk to represent the Save function. "It's easier to have a 'Save' button, but you'll have to localize it."
On the Apple side, a book shelf will look like it's made of oiled mahogany, and "a notepad looks like a notepad," he said. Also, Windows 8 offers no version of Bonjour, and Microsoft doesn't allow Windows 8 Store apps to use OpenGL; only DirectX is permitted. Hillegass, who founded training and development consultancy Big Nerd Ranch, has written numerous books on Apple programming, including the seminal Cocoa Programming for Mac OS X.