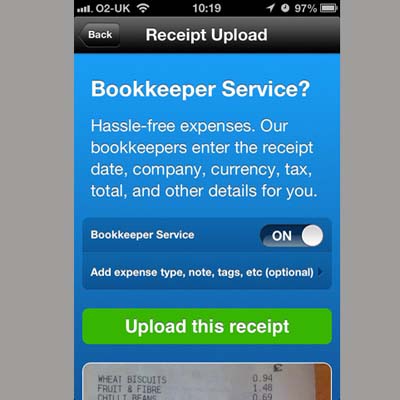 ExpenseMagic For iOS
For mobile executives, little slips of paper can be as valuable as currency. Receipts are important to keep track of when traveling and, luckily, there is ExpenseMagic for iOS to help out with that. Developed by ExpenseMagic, a startup company, this app stores paper receipts digitally with the snap of an iPhone camera. To utilize this app, users can take a photo of their receipt to be recorded and tracked. This is then sent to bookkeepers at ExpenseMagic to enter the details and it only takes a few hours to process. ExpenseMagic also supplies monthly expense reports to the user.
What's great about this app is that a user can choose to send all their expenses on one single claim form to be automatically emailed to their employer once a month. If a user is overseas on business, ExpenseMagic uses the GPS location to select the appropriate currency and converts the expenses back to their home currency. Although the app itself is free, the price for this paperless solution varies. Users start out with five free receipts, but for $4.99, users will receive a bundle of 20 tokens (one token = one receipt); 30 days unlimited is $13.99, 90 days unlimited is $28.99 and one year unlimited is $74.99. Not only is this app a time-saving tool, it's great for handling important expenses and makes data easily accessible online.