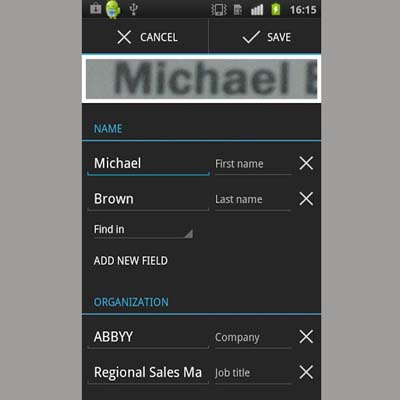 Business Card Reader For Android
It is difficult to organize and keep track of accumulated business cards. However, with just a snap of an Android's camera, ABBYY Business Card Reader lets those stacks of cardboard contacts remain in the palm of your hands. Developed by OCR tools maker ABBYY Software House, ABBYY Business Card Reader uses accurate text processing and recognition technologies to effortlessly transfer contact data.
All contact information including names, phone numbers, email addresses and other information is converted and saved as digital text. To save from tedious retyping, users can simply "share" the saved information to any database. During testing, we found that the app works best with good lighting to accurately read the contact information. This app contains more than 20 languages to translate the captured data as well. What's so great about this app is that users can link LinkedIn and Twitter profiles -- perfect for social integration.