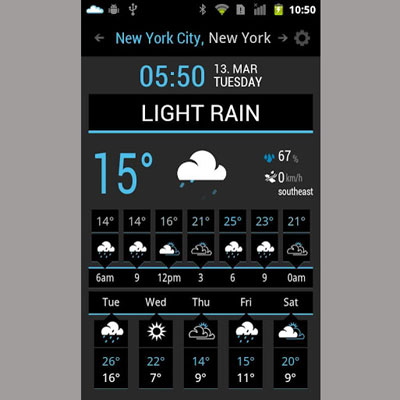 Weather Flow For Android, Windows Phone 8
Whether rain or snow are expected, this "must-have" weather app will know. Weather Flow is a simple yet visually appealing app for Android and Windows Phone 8 that provides you with your current, hourly and five-day weather forecast. Created by independent developer Gergely Orosz, Weather Flow is a customizable app that is worth every penny of its $1.99 price tag.
Besides the up-to-date weather forecast, there are additional weather statistics including precipitation, pressure, wind gust, sunrise and sunset, visibility and UV index. There is also full lock screen support, which allows the app to be set as the home screen. Weather Flow's aesthetically pleasing layouts can be chosen between the sleek "Metro" light or dark layout or the "Rich" layout. For battery-conscious users, the dark theme uses less power. Besides a polished and tailored design, Weather Flow also has a number of options for Live Tiles. Yesterday's weather can easily be compared to today's, and travelers can track weather from multiple locations around the world.