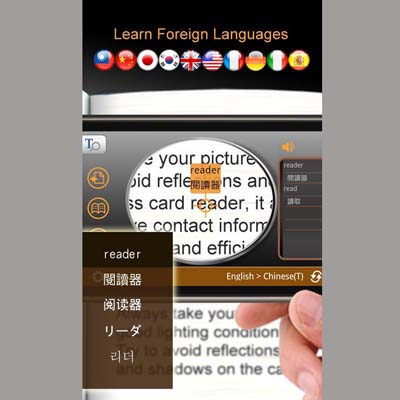 Travelers often have difficulty understanding foreign signs or reading menus. For just $3.99 and the snap of a shutter, Worldictionary for Android or iPhone uses OCR and web-based translators to instantly convert what it reads to the language of choice.
Developed by business productivity software maker

Penpower Technology
, the tool is as simple to use as taking a picture. Simply point at a word or sentence and wait for the camera to focus in. The app will tap into Google or Bing to translate into one of 21 major languages. Worldictionary automatically saves searches and lets users save words as bookmarks to revisit and build vocabulary.
Despite Worldictionary's efficiency and functionality, there are some drawbacks. This app will only translate one word at a time so a user must point and select word after word in a sentence. It won't translate an entire sentence at once. Also, while the app is open and not in use, the camera will "snap" pictures of a black background and choose random nonsense to translate, which it saves into the history. Also, Worldictionary requires Wi-Fi and a data connection to work. This can be a problem for those abroad; roaming data can be costly and some Wi-Fi hotspots require payment.