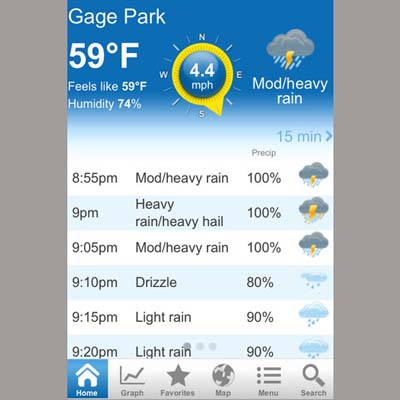 Nooly Micro Weather For Android, iOS
There's no predicting Mother Nature. Within minutes, a sunny day can turn into a tumultuous rainy day. As weather guides our actions and impacts our decisions, Nooly Micro Weather might be the most dependable weather app for Android and iOS. Developed by Nooly Technologies, a leader in weather forecasting systems, it is the first app designed for accurate predictions. Instead of generalizing weather conditions, Nooly will predict the exact start and end time for precipitation. With updates every five minutes, users can see what the forecast will be like in intervals of five minutes, 15 minutes or by the hour. The app recognizes a user's exact location and makes predictions within 0.4 square miles of that location or wherever is searched within the U.S. and Canada.
Nooly uses patented technology developed by Prof. Daniel Rosenfeld of Hebrew University of Jerusalem and Prof. John Mecikalski of University of Alabama. Algorithmic data also is retrieved from two NOAA/NASA satellites and more than 260 NOAA radar stations to provide predictions from every cell within a cloud. Nooly identifies each cloud to predict how long and how intense the precipitation will be. Although Nooly isn't particularly pleasing aesthetically, it's still in beta, and is more superb than other generic weather apps we've seen. And it's free.