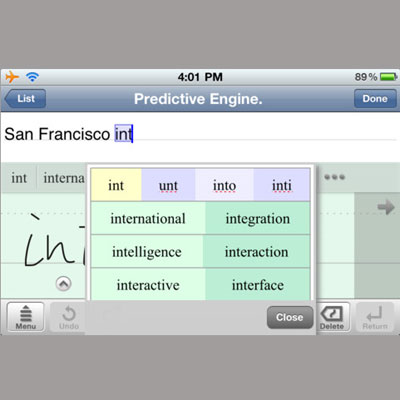 7notes Premium For Android, iOS
Who needs paper when you have 7notes Premium for Android and iOS? This app anticipates what a user will type or hand-write next with its superb handwriting recognition engine. 7notes Premium for Android, developed by "smart paper" innovators MetaMoJi costs $9.99. This app immediately recognizes cursive words and letters written with just a finger.
There are three different ways to input text: handwritten, handwritten conversion into text (which a user can choose to convert now or later) and an on-screen keyboard. Users can choose from various fonts and background colors, and can save particular styles. What's amazing about this app is that 7notes' predictive engine will anticipate what a user wants to write. While writing, an above display will suggest a word or other alternatives and all the user has to do is tap the desired word. The app also taps into social media -- call it social doodling. Users can post notes to Facebook or Twitter and have viewers of the note edit it and share it among friends. 7notes Premium is nothing short of amazing as an efficient yet simple note-taking tool.