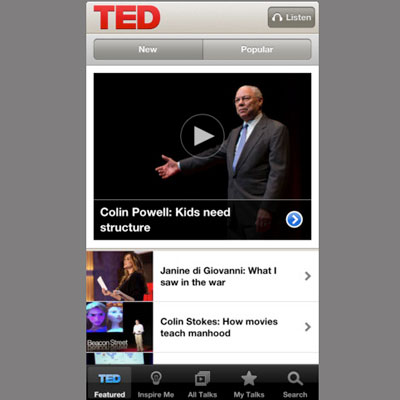 TED For Android, iOS And Windows 8
For busy executives, it's impossible to attend every conference. However, catching up on important and inspirational speeches has never been this easy or interesting. Developed by TED, a nonprofit devoted to "Ideas Worth Spreading," this is the official free app for Android, iOS and Windows 8. TED brings together speakers from "Technology, Entertainment, Design" ecospheres. They contribute "riveting talks by remarkable people, free to the world."
There are currently at least 1,200 enlightening and informational videos and audio clips. It is constantly being updated with the latest talks. TED's interface is simple and highlights certain videos at the top with a list of others below, with subtitles in at least 90 languages. It supports playlists and full-video download for offline viewing. A search feature allows the curious to be led from one video to the next. TED is an app that can educate, enrich and provide power through the distribution of knowledge.