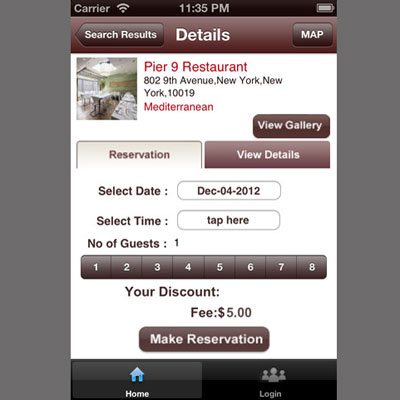 DineTonite For Android, iOS
DineTonite is a free app that will pay you back for dining out. Although there are existing food apps like GrubHub and Yelp, DineTonite provides restaurant guidance and even makes the reservation. Built by independent developer PDA Trade, this Android and iOS app provides deep discounts when dining at participating restaurants.
Users can search by city, location, cuisine and/or date. They are then sorted by availability, pricing and even by discount. Also great, the discount is discreetly deducted from the check at the end of the meal. This means no fussing for printed or forgotten coupons. The cities available for this app are only within the U.S., and include Baltimore, Charlotte, Chicago, Cleveland, Fort Lauderdale, Houston, Las Vegas, Miami, New Orleans, New York, Orlando and West Palm Beach, and various cities throughout New Jersey. Even though there's a $5 dollar booking fee for reservations kept, the savings more than compensates. We think DineTonite is dynamite.