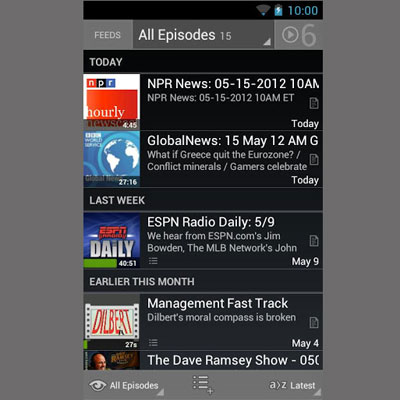 BeyondPod Podcast Manager For Android
BeyondPod for Android goes above and beyond for people who thrive on podcasts. Not only does this app play podcasts and manage subscriptions, it also manages RSS feeds. Developed by the BeyondPod Team, which specializes in podcast management and RSS feed readers, this convenient Android app is available for both tablet and phone, and perfect for those on the go.
Integrated with Google Reader, this app automatically imports a user's podcast subscriptions and can schedule podcast downloads using Wi-Fi or 3G. BeyondPod even will automatically turn Wi-Fi on, update feeds and then turn the Wi-Fi back off again. It has a Smart Playlist feature to generate playlists according to a user's listening preference and lets users organize podcasts into different categories and import music files and audiobooks. While BeyondPod is initially free, after a week there's a cost of $6.99 that's surely worth it. A free version is limited to managing one feed.