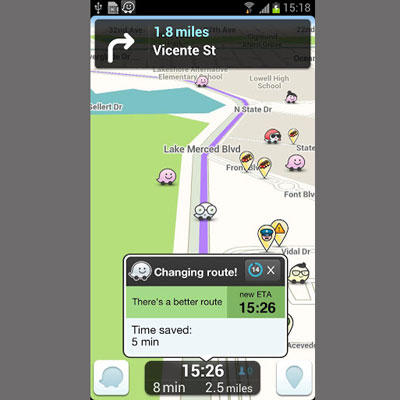 Waze For Android, iOS
Traffic is frustrating and inevitable on roads that are constantly fluctuating. Drivers are left clueless when maps and GPS devices fail to show those changes. However, Waze, a free navigation app for Android and iOS, helps users to avoid traffic jams. Developed by Israeli startup Waze Mobile, this app combines GPS, turn-by-turn directions and the social networking to help choose the best way to get around traffic. What makes Waze so great is the concept of keeping the driving community connected. Everyday users, also known as "Wazers," provide in realtime the current state of traffic and other information relevant to fellow drivers.
By simply driving with the app open, users contribute to traffic and road data. Waze recognizes when the host vehicle slows down and asks if it's stuck in traffic. Users can specify if there's an accident, hazard, police trap or other delay. So whether a driver wants to shave five minutes off their regular commute or get help steering around an accident, Waze will always show the best routes. Waze is an efficient app that we absolutely love; veering drivers to their destination by the quickest "Waze" possible.