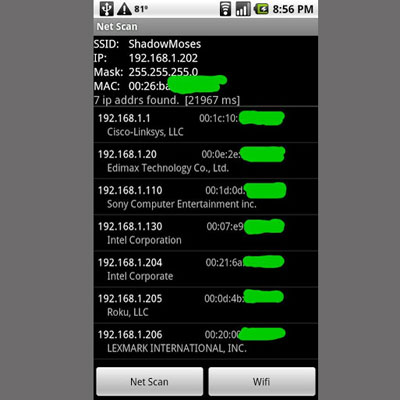 Net Scan For Android
It's handy knowing what you're walking into especially within networks that can easily be threatened. Network administrators no longer have to walk in blind thanks to Net Scan, which can easily find holes and security flaws within private or public networks. Built by independent developer Nick Circelli, Net Scan for Android is a free app that scans, identifies and reports device names, IP addresses, MAC addresses, open ports and other network data and potential vulnerabilities.
When the app is first opened, an initial scan is performed and within a matter of seconds Net Scan reports the MAC address and SSID of the access point it's attached to. A complete scan brings up their device's Wi-Fi controls plus IP and MAC addresses of every device on the network, including names and NIC info. It also detects errors within a selected range of ports to identify problems that are potentially blocking network access. This app is great for recommending security enhancements and for field techs to scan resources or to confirm that a resource is still available.