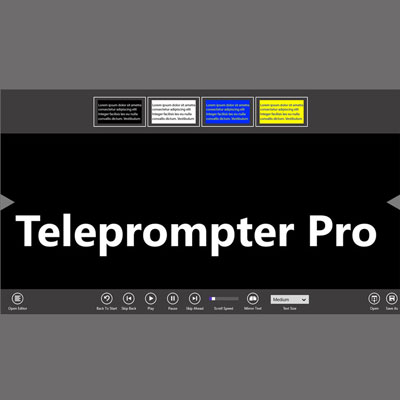 Teleprompter Pro For Windows 8 RT
Nobody loves giving speeches, but organization and confidence can go a long way toward a great presentation. With Teleprompter Pro for Windows 8 RT, speech-givers will need only work on their organization. Developed by utility toolsmaker Purple Wizard, this $2.49 app is mobile and customizable, yet a simple and effective tool that emulates a professional teleprompter for practice and the real thing.
Teleprompter Pro offers a script editor for creating, editing or importing text from a file. Users can configure the smooth scrolling speed, text size and color. There's also a mirroring option for use with reflective glass. This app is simple, perhaps too simple. With no help text provided, a user will have to play around with the app to figure it out. Still, Teleprompter Pro will surely help an executive practice and deliver a scripted speech.