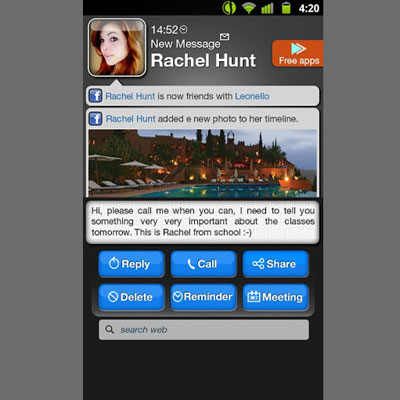 CallFlakes For Android
After speaking with a client, it's crucial to follow up with a call or email. For the forgetful, CallFlakes for Android will act as a personal assistant. Developed by independent app developer Callsome Solutions, this app will enhance the primary two functions of a smartphone: calling and texting. Immediately after an incoming, outgoing or missed call, a window will pop up with options to send email, text, call back, schedule a meeting, create a note, set a reminder, share on social networks such as Facebook or Twitter and/or search the web.
What's great about CallFlakes is its integration with Facebook. Users can make or receive a call/text to/from a Facebook friend and also receive recent updates from their pages. While this can be great, it also can be an inconvenience for those that do not want to mix business with pleasure. Although the pop-up feature is helpful, it also can become quite annoying. When a user doesn't want to choose to make a decision right after a call, the options menu will continue to keep popping up, and there's no way to disable it. Nonetheless, this app will help preoccupied users from forgetting to return an important phone call.