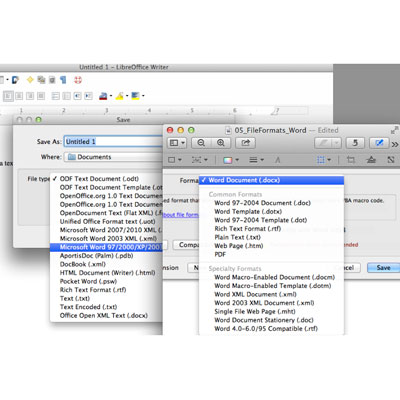 File Compatibility, Formats
Developers of the open-source productivity suite have been hard at work improving compatibility and interoperability between LibreOffice and Microsoft's Office products. While Microsoft focuses mainly on being compatible with itself (foreground), LibreOffice 4.0 adds open formats young and old plus Web, XML and lots of others. Also new in Writer 4.0 is the ability to add comments to sections of text. We tested this feature, which works exactly as it does in Word. And we can report that the comments saved in the LibreOffice document appeared when opened in Word.
What's more, according to the 4.0 New Features and Fixes Page, the free tool also can import Visio and Publisher documents, process native RTF math expressions, and handle ink annotations made with a tablet PC and saved in Microsoft's DOCX and RTF formats. There's also better overall support in v4 for the DOCX format, as well as the XLSX format of Microsoft Excel and OpenOffice's ODS (doubling its file-size capacity to 4 GB). And the suite's Calc spreadsheet module offers loads of new formulas and can reportedly export charts as images and color scales to XLSX format.