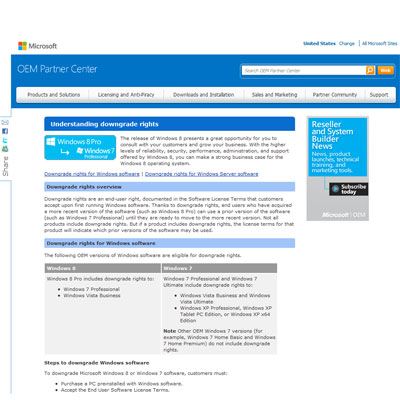 Prep Step: Windows EULA
There's one more thing you'll need to understand: Microsoft's end user license agreement as it relates to Windows 8 downgrade rights. In essence, downgrades are permitted only from Windows 8 Pro. If you bought plain-old Windows 8, you'll have to purchase a new license for the Windows 7 version you want. What's more, Windows 8 Pro can't be downgraded to anything other than Windows 7 Professional or Windows Vista Business. We think most people will opt for the former, so our instructions act accordingly. Also note that with the exception of the Windows 7 key acquisition (which in itself is not trivial), the steps for downgrading from Windows 8 Pro and non-Pro are identical.
For the enterprise, OEMs and other volume license (VL) customers, Microsoft permits downgrades to be performed on multiple machines from a single downgrade medium, be it a full retail package or system builder DVD. VL holders also are authorized to distribute media and keys to clients so they can downgrade their own systems.