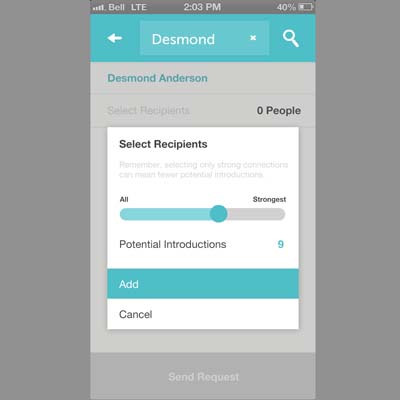 Maker: Introhive

Platforms: Android, BlackBerry 10, iOS

Cost:
$10 (requires Introhive corporate account)
It's one thing to provide the sales team with tools for contact

management. It's another to leverage contacts for business

intelligence. This year's contact management winner does both.

Introhive is a simple app for major mobile platforms that analyzes

the contacts in a mobile device in relation to their appearances

in mail, calendar, phone and other apps to determine which are most active and valuable. After cleansing contact data and removing duplication, Introhive evaluates the importance of contacts—factoring in their company names and titles along with the frequency and variety of communications—to provide a ranked prospecting list. The tool also can send alerts when new or overlapping connections are forged by colleagues, when a contact receives a title change or promotion, or when it's time to call a meeting with everyone on your team with contacts at a particular account. Introhive integrates with CRM and collaboration tools, including Chatter.