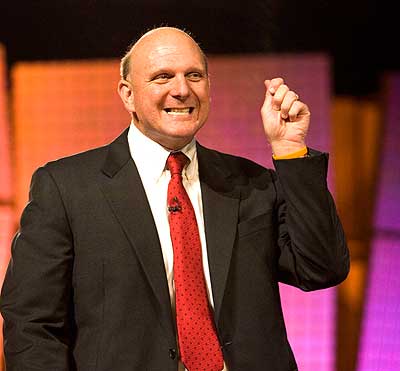 Steve Ballmer Is A Wild Man
OK, so maybe he has calmed down a bit from his 'Monkeydance' days. But Microsoft CEO Steve Ballmer still exudes a fun, youthful vibe that belies his age and standing as CEO of the world's largest software company. Ballmer recently threw a bone to tech historians when he reprised the Monkeydance in an interview with venture capitalist Guy Kawasaki at Mix '08 in Las Vegas.
Solution providers love the energy Ballmer brings to the table and don't feel it detracts from the serious nature of the business he controls. "I think there needs to be a lighthearted side of all business," said Mitch Cannady, CEO of Spinnaker Solutions, an Irvine, Calif., solution provider.
"He's a passionate individual, no doubt. But he can also tell you, within a fraction of a decimal, information about his P&L, and that is unique," said Ric Opal, vice president of PetersAssociates, an Oakbrook Terrace, Ill.-based solution provider.
Matt Scherocman, vice president of consulting services at PCMS IT Advisor Group, a Cincinnati-based solution provider and Microsoft Gold partner, sums it up best: "I love coming to work every day, and the team of people I interact with is excited, enthusiastic, and has energy. However, Ballmer is at a whole different level in these areas."